ZonaHollywood.com - CATEGORY News metro: TITLE
First of Its Kind
Over a decade ago, I remember learning of a service called "Netflix" ($NFLX) that offered its customers unlimited DVD rentals for a modest monthly fee. Netflix was the first of its kind, vastly different from brick and mortar rental stores like Blockbuster and Hollywood Video, as movies were delivered directly to a subscriber's doorstep. As an anti-social, angst-ridden teenager, I loved the idea of maximum entertainment with minimal human interaction. >In 2007, the company altered the trajectory of the industry by launching an online streaming service that gave viewers access to thousands of movies, shows, and documentaries, all available at the click of a mouse or TV remote. The service's wild success ultimately sent many traditional movie rental businesses spiraling towards bankruptcy. Netflix has since exploded into the sexiest name in digital content streaming, one of the most recognized brands in the United States, and a cultural icon among millennials.
>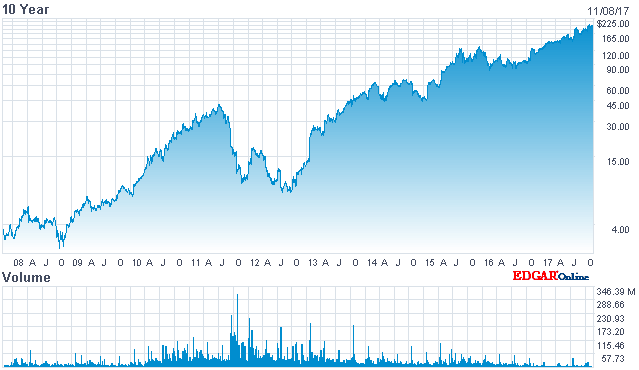 The Street's King of Streaming: Once upon a time, Netflix traded around $4; its market cap has since exploded. The stock currently trades in the $190-$200 range.
With cinema-quality original content and a massive subscriber base, the Netflix brand will likely be around for many years to come. Top and bottom line figures will undoubtedly continue to improve, but the stocks days as a Wall Street darling appear limited. Increasing competition threatens to erode market share and slow growth. Content costs are on the rise, and will continue to significantly hinder cash flows. Investors will sour on the stock over the next 24 months, and shares will take a massive hit.
Noteworthy Strengths
Without a doubt, the service is top of mind in the world of digital streaming. Simply stated, Netflix pioneered the industry. This in itself provides a legitimate competitive advantage. Additionally, management should be commended for building a robust portfolio of stellar original content. Years ago, I recall analysts identifying native content as a major key to the sustaining the company's success- with addicting gems like Narcos and Stranger Things, Netflix hit a home run in this regard. These brilliant series engross the audience in a way many programs cannot and simply have not; they leave viewers talking, thinking, and anticipating-the next scene, next episode, and next season.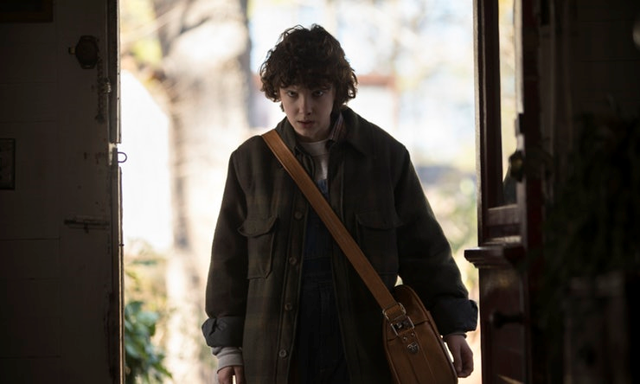 >"Eleven," played by actress Millie Bobby Brown, shines in the latest installment of Stranger Things.
Continuing to develop these iconic original series will differentiate the service and keep it at the very top of the consumer's mind, while avoiding spending large sums temporarily licensing the content of a third party. However, even with continued growth in original content, I see three major competitors capable of dethroning Netflix, or at least snatching enough market share to significantly hurt the stock: Amazon ($AMZN) (through Prime Video), Hulu, and Google ($GOOGL) (through YouTube Red and TV).
Major Threats
Amazon Video
It kind of feels like Amazon wants to take over the world, and to be frank, they kind of are. Should it choose to do so, the ecommerce juggernaut is going to become a major problem for Netflix. For no additional fee, Amazon offers its members access to over 18,000 movies and nearly 2,000 TV shows on demand. Unlike Netflix, users may choose to purchase certain content, or subscribe to one of dozens of premium channels including HBO, Showtime, and STARZ. With the broadening appeal of Prime, some consumers might eventually elect to abandon their Netflix memberships, and instead utilize Amazon Video; I view this as a legitimate possibility, and argue $NFLX longs should as well.
Hulu:
The joint venture of Disney, Fox, Comcast, and Time Warner offers a wide selection of TV shows and movies for a monthly fee similar to that of Netflix . Like Amazon, Hulu aims to appeal to those looking for a traditional cable service married with a streaming service. "Hulu with Live TV," launched in select markets last May, gives users access to over 50 cable channels, optional access to Showtime OTT, and a cloud based DVR with hundreds of hours of storage.
Google's YouTube Red and YouTube TV
Google unveiled YouTube Red in October 2015, a subscription based service providing members with ad-free Youtube videos, offline content access, and uninterrupted music playback. Users also gain access to an expanding library of original content through YouTube Red Originals. The service starts at $9.99/month and offers a free one-month trial.
Youtube TV launched earlier this year, and just recently became available to a majority of the country. The platform includes access to live TV of 40 networks and a cloud DVR with unlimited storage. Users may also view original content offered through YouTube Red. YTTV currently runs at $35/month.
None of the competitors discussed above currently touch Netflix in the realm of native content or brand awareness, and in the near term, I do not expect any streaming service to do so. Nonetheless, these threats are real and offer unique value propositions that Netflix has yet to answer: Live TV and cloud-based DVR paired with quality original content. Further, the additional players in the industry expand the market demand for content, intuitively leading to increased costs. When considering the current competitive landscape within the context of the firm's fundamentals and financial condition, I believe the stock feels destined to drop sharply.
Financial Performance
Top Line
Wall Street is clearly enamored by the company's top line growth in recent periods, as evidenced by the chart in the article's opening section. During 3Q 2017, revenues hit $2.9 billion, a 26% increase compared to the same quarter last year. Global streaming memberships and average monthly revenue per paying membership, key figures monitored by analysts, impressed again on a trailing twelve month basis. Paid memberships approached 110 million, while the average monthly revenue per membership hit $9.44, representing increases of 26% and 7%, respectively. It is no surprise that management emphasizes these metrics during conference calls and through press releases, as they have been historically major drivers of share price and general market sentiment. Whether these metrics are truly indicators of shareholder value creation is another question entirely.
Bottom Line
The firm is profitable under US GAAP, generating $187 million in 2016. Net income is on pace to break $400 million in 2017, an all time high, driven by significant international subscriber growth. One might expect net income to consistently rise in tandem with revenue, but the pattern appears quite choppy. Netflix's bottom line return tends to vary significantly period by period, as shown in the figure below. Further, even assuming income exceeds $400 million in 2017, the stock still trades in excess of 190 times EPS.

>

Cash Flow
The firm does not consistently generate cash flow from operating activities. Like net income, the pattern is irregular and does not reflect trends in the top line.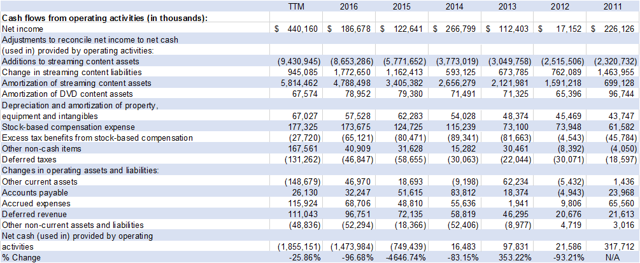 >
Management tends to blame the negative cash flow on spending related to in house original content. In a letter to shareholders last April, IR claims:
The increase in our free cash flow deficit reflects the growth of original content, which we are increasingly producing and owning (rather than licensing). Self-produced shows like Stranger Things require more cash upfront as we incur spending during the creation of each show prior to its completion and release. In comparison, we generally pay on delivery for licensed originals like Orange is the New Black and we pay over the term of the agreement for licensed non-originals (eg, Scandal).
Netflix reiterated this narrative in its most recent letter to shareholders, stating:
There is no change to our expectation for FCF of -$2.0 to -$2.5 billion for the full year 2017. Negative FCF, despite growing operating income, is due to growth of our content spend,

original content in particular, where we pay for the titles before consumers enjoy the content, and the

asset is amortized by estimated viewing over time.

We anticipate financing our capital needs in the debt market as our after-tax cost of debt is lower than our cost of equity.
The statement above is true; in many cases, original content likely requires a larger upfront investment (cash outflow) than simply purchasing a licensing agreement and paying a monthly or annual fee. However, in my opinion, management seems to over-emphasize the impact of original content spending on FCF, as evidenced upon review of the balance sheet and related disclosures.
Balance Sheet
Off Balance Sheet Streaming Content Obligations
When the company acquires a license, the amount is disclosed in the financial statements, however the liability and corresponding asset are not recorded until the licensing period begins. As illustrated in the contractual obligation excerpt below, financial reporting disclosed $9.6 billion in streaming obligations not currently reflected on the balance sheet as of 9/30/2017. Of the $16.9 billion in streaming content obligations, only $7.4 billion currently sits on the balance sheet. Note the $7 billion in streaming obligations coming due in less than one year, and the additional $8 billion due within the next three years.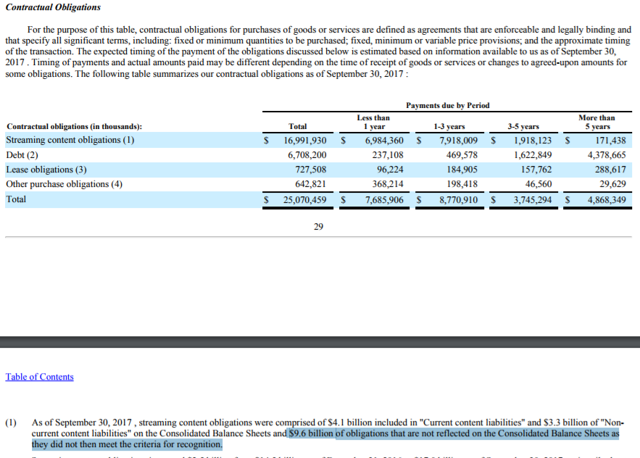 >I am somewhat surprised that streaming content obligations have increased steadily over the last several periods, as outlined in the table and chart below. A decrease in these obligations might indicate a shift in the company's strategy from outsourced content towards in-house content. At the very least, the stated figures imply that in the near term, management remains committed to pursuing licensing agreements. Or, perhaps the rising obligations also reflect a general increase in content costs. Regardless, native content may indeed demand higher up-front investments, but the financials indicate licensing fees will represent a substantial portion of the firm's cash outflows for several periods to come.

>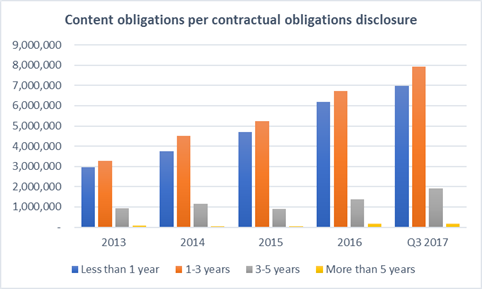 Rising content obligations appear troublesome when considering the company's current cash and short-term investment's balance of $1.7 billion. At the end of September 2017, long-term debt clocked in at $4.9 billion, up $1.5 billion from December 31, 2016. The firm may borrow up to $750 million under its current revolving credit facility.
Produced Content & Amortization
When the company develops content in house, applicable costs are capitalized within non-current content assets. Both licensed and produced content are amortized over the shorter of the contractual period of availability or estimated period of use. The latter scenario involves a significant degree of judgment and can prove difficult to estimate. During the third quarter 2016, a change in amortization due to estimated viewing patterns resulted in a $12.3 million decrease in net income.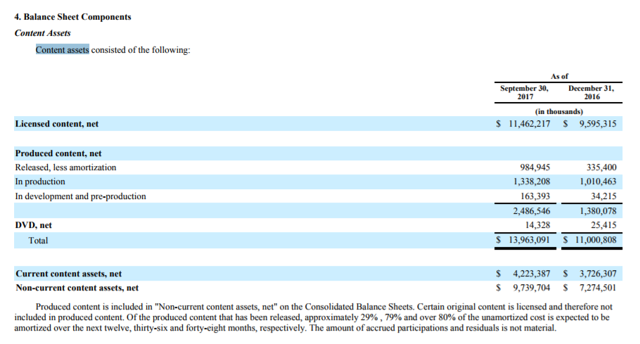 >On a percentage-basis, produced content has increased greater than licensed content during 2017 (19.5% vs. 80.0%), supporting management's stated commitment to move towards producing shows and movies in-house. As of 3Q 2017, though, licensed content still comprised a majority of content assets, and will continue to be a major drain on cash well into the future.
Where's the Value in the Equity?
Challenges and Uncertainties
As suggested earlier, a majority of the firm's expenses relate to non-cash amortization costs of its streaming content, comprised of both in house developed assets, and capitalized licensing agreements. Financial reporting does not disclose the portion of amortization attributable to produced vs licensed content, which I find a bit frustrating from a valuation perspective. An analyst must speculate the split between amortized original content, an expense that aligns with and supports the firm's strategic mission, and the amortization of licensed content, a resource not truly "owned," but more so "borrowed", used, and lost sometimes within a matter of months. Additionally, we can only speculate the average life of these agreements, or in the case of produced content, the average viewership period. This leads to uncertainty in understanding historical bottom line trends and forecasting future net income. Finally, and most notably, Netflix's revenues are fixed subscription fees, essentially unrelated to the costs assigned to them per the financial statements. Therefore, it seems difficult to draw any meaningful inferences on the relationship between revenue, net income, and concrete value creation.
What's Apparent: Cost Structure Will Always Limit Shareholder Value Creation
Young, growing entities within developing industries typically spend large upfront sums on discretionary, growth-related expenditures and long term capital investments. It appears to me that management attempts to frame the business within such a paradigm: spend lots of cash now, incur lots of expenses now, and over the long term reap the reward of positive cash flow and flourishing earnings. But the numbers do not quite jive with this narrative.

>
Revisiting the historical statement of cash flows, notice the trend within the net cash effect of additions to streaming content assets, changes in streaming content liabilities, and amortization. Since 2012, we have seen significant spending on content assets, year-over-year increases in streaming content liabilities, and an increase in amortization expense. Yet, we also see an unusual, sporadic pattern within net income and a steady, growing cash burn. To me, this table fits my with my theory discussed above and implied throughout the piece: Netflix is operation with sporadic, unpredictable earnings requiring constant working capital depletion to fuel any sort of growth.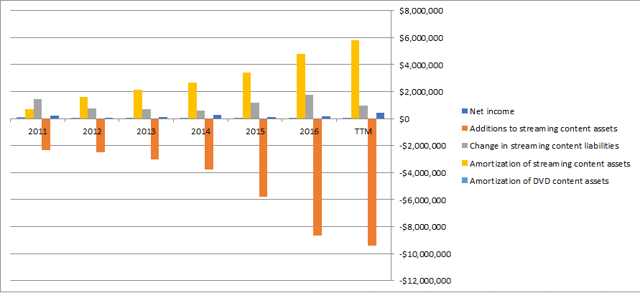 >Whether from produced or licensed media, Netflix's largest expenditures are a direct consequence of the essence their current business model. Albeit the firm may generate an accounting-based profit from time-to-time, but its ability to produce value will always be limited by its cost structure, especially in an environment of rising content prices.
Not If, But When
Netflix faces the incredibly difficult challenge of continuing to produce market differentiating original content, while funding this content in a way that does not diminish shareholder value, all while operating in an environment of rising content costs due to mounting competition. It must continually exhaust its working capital not only to maintain growth, but also to fend off competition to stay relevant in the industry. Even Eleven's telekinetic powers would not be enough to keep shares suspended at their current level for long.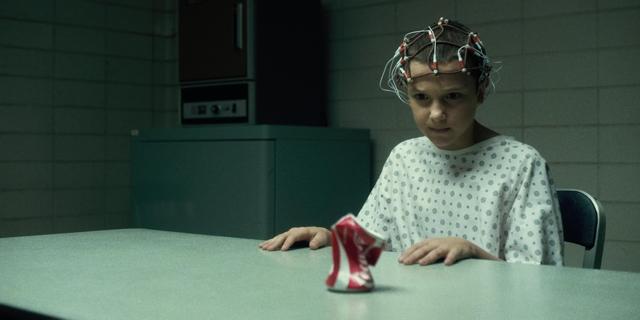 >To boost earnings and cash flow in the near term, I think management will either need to hike subscription prices, or cut costs by reducing its content library. I envision this move, be it a price increase or reduction in content, will be enough to convince some users to switch to a competing streaming service. Consequently, revenue and user growth metrics will miss estimates. The market will begin to value Netflix appropriately, and shares will begin their descent into the $75 range.
ZonaHollywood.com, Site News Today\\\'s world Presenting Daily News Latest News and Latest Regarding News Politics, Business, Sports Up Celebrity Gossip.
Source : https://seekingalpha.com/article/4124415-much-longer-can-netflix-defy-gravity