ZonaHollywood.com - CATEGORY Report today: TITLE
For all the hullaballoo about misplaced envelopes and mistaken winners, it's sometimes hard to remember that the Best Picture Oscar went to Moonlight earlier this year. It was a shockingly relevant choice for an awards body that's usually anything but: An artful exploration of identity and sexuality with a gay black protagonist, made by an indie studio for $4 million, defeated the expected victor, La La Land, a glossy paean to show business. Coming after years of controversy over the homogeneity of the Academy Awards' nominees, the win felt like a transformational moment for the Oscars—in terms of recognizing not just diversity in art, but also films that resonate with the wider moment in American culture.
The upcoming Academy Awards could very well continue down that path. It's easily the most wide-open race in years, with no obvious frontrunner for Best Picture and plenty of well-liked films that could make the shortlist (which can include up to 10 nominees). Will the consensus build up around a movie more familiar to older voters, like Christopher Nolan's World War II epic Dunkirk or Steven Spielberg's newspaper drama The Post? Or will the Academy reward a less typical work like Jordan Peele's subversive horror film Get Out or Greta Gerwig's fizzy coming-of-age dramedy Lady Bird? And how might the Oscars' choices reflect pressing political and social issues within the industry and beyond?
---
>
Related Story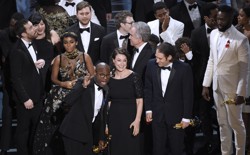 >
What >Moonlight's Win Says About the Oscars' Future
---
Two shadows in particular are looming over this race—the presidency of Donald Trump (who is, of course, not very popular in Hollywood), and the wave of revelations about sexual harassment and assault in the industry, centered around the mega-producer Harvey Weinstein. For decades, Weinstein was the king of the Oscars, famed for his aggressive campaigns that nabbed Best Picture nominations for fairly forgettable movies (think Chocolat or Il Postino) and a surprise win for Shakespeare in Love in 1999. His influence reverberated through Hollywood in ways that are still being accounted for, even if it had waned in recent years.
Many films in the current race, including conventionally Oscar-friendly fare, have overtones of resistance to the Trump presidency: The Post dramatizes The Washington Post standing up to the White House over the publishing of the Pentagon Papers. Joe Wright's Darkest Hour tells the story of Winston Churchill's infighting with the right wing of his Conservative Party during World War II, and Guillermo del Toro's allegorical The Shape of Water features a fish monster as a stand-in for the feared and hated "Other" in America.
​​ ZonaHollywood.com, sites News largest in the world. News artist, celebrity gossip, celebrity interviews, vent celebrities, photos of celebrities, celebrities.
Source : https://www.theatlantic.com/entertainment/archive/2017/11/how-will-the-oscars-reflect-this-moment-in-hollywood/545816/